If you want your business to be found online, one of the best places to start is with a Google My Business (GMB) profile. GMB is a free tool that allows businesses to manage their online presence across Google, including Search and Maps.
Creating and optimizing your GMB profile can help you show up in relevant search results, connect with customers, and get insights about your business. In this article, we'll show you how to create or claim your GMB listing, and how to optimize your profile for maximum visibility and impact.
When you create a GMB profile, Google will verify your business location (for example, the address of your store or office). You can also connect your social media profiles to this listing.
Start creating or claiming your GMB profile.
Log in to Google My Business.
To get started, visit google.com/business and sign in with your Google Account.
Verify that your business information is correct. To verify your business, you need to provide us with the name of your business and the street address where your business is located.
Add photos of your business location. You can upload up to 9 photos of your business location, including interior and exterior shots.
Review your information and add more details if needed.
Make sure that all of your business information is correct, including hours of operation, business categories, and address details.
Get verified.
If you pass verification, you'll see a "Verified" badge on your business listing.
What to do if your Google My Business Profile gets suspended?
If your Google My Business Profile gets suspended, there are a few things you can do in order to try and get it reinstated. First, you should check to see if there are any violations that you can fix, such as incorrect information or multiple listings for the same business. If you believe your profile was suspended unfairly, you can appeal the decision by filling out a form.
Let us take you through a case study. Here is how we lifted the suspension of one of our client's Google My Business Profile.
We received an email informing us that the Google Business Profile has been suspended.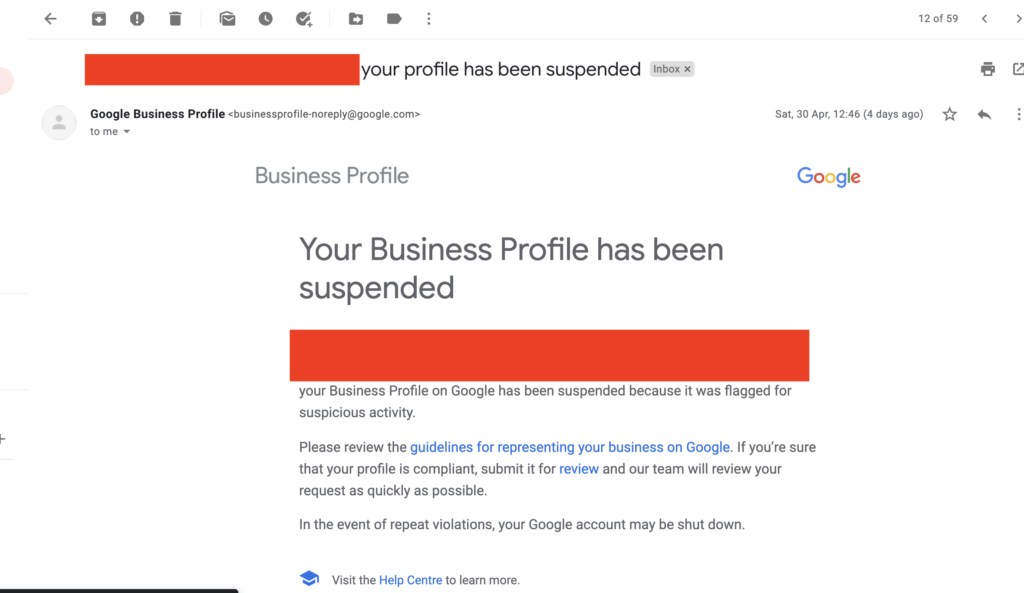 2. In the email, you will get a link to submit the profile for review. A reinstatement form was filled out along with relevant proof and was submitted via the link provided.
3. Within a couple of hours we received an auto-reply from Google.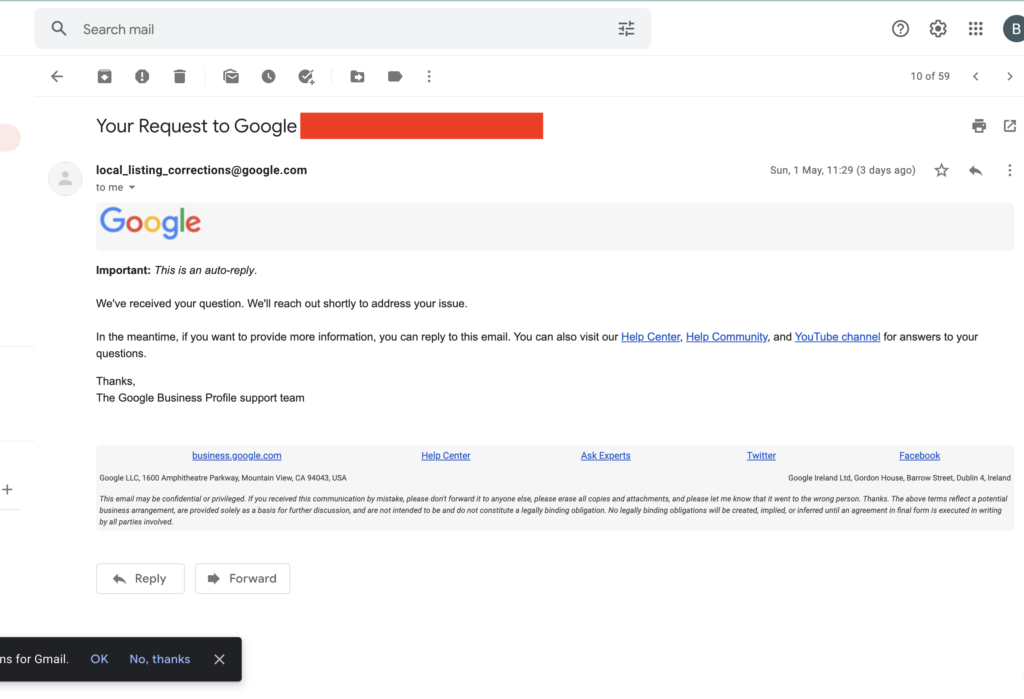 4. In 2 days, the Google Team responded to the review by saying that the suspension was for a valid reason.
5. Being shameless and persistent, we replied to that email with relevant proof ( Certificates and photos of the business office) for a manual review.
6. Following the email, a call was received from the Google team the next day for verification and our team responded with all the details. As a result, the Google My Business Account got reinstated on the same day.
We hope that this experience of ours, reinstating a suspended Google My Business account will come in handy for you. If you need help, contact me or the Growth Engineer team to get it fixed.